Learn 
More
Founded in 1941,
the Association for Asian Studies
(AAS)—the largest society of its kind, with approximately 8,000 members worldwide—is a scholarly, non-political, non-profit professional association open to all persons interested in Asia.
Research 
Opportunities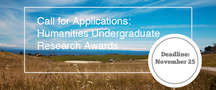 The
Humanities Undergraduate Research Awards (HUGRA)
support and encourage undergraduate research in the humanities. Up to 10 awards in the amount of $500 each are given each year.
For 
Students
Click on the links below for more information:
Support 
Our Program
Your gift to East Asian Studies helps to support outstanding students and our nationally recognized programs. Learn more or give today.